This post may contains affiliate links which means we may receive a commission on products or services that you purchase through clicking on links within this blog.
Earlier this this year, we went on our first camping trip as a family of four. We had previously camped as a family of three, and before that as a couple.
It was definitely easier camping when it was just the two of us, but camping with kids can be a rewarding experience.
The first time we went camping with our son, he was about 15 months old.
He didn't sleep well at night so that made things interesting. But at least with the driving we were doing, he had some sleep in the car. It made things a bit difficult when we arrived at our destination and had to wait for him to wake up. There was no way we were going to wake him and have to put up with him being cranky.
Our daughter was 2 ½ for her first camping experience, recently Out of all of our times camping, this was probably my favourite. Because we had been several times before so we knew the types of things we would need, or things we'd wished we'd brought other times. All just the experiences we had picked up along the way.
Our recent camping experience, we we went camping in Yallingup, Western Australia, which we had been before and enjoyed. It was during school holiday time so it was busy which we were prepared for. We stayed at The Caves Caravan Park in Yallingup which was somewhere different for us as our usual campsite was fully booked. But we liked it just as much, even though it was a bit further than we would have liked.
And the kids loved it!
Camping with kids can be an amazing experience. It makes for great family time, fun adventures and treasured memories. And it can be a great way to bond with your child.
Camping can be a lot to prepare for when you have kids, especially if you haven't really been yourself before and have no idea where to start or what to take. Here's some tips for camping with kids.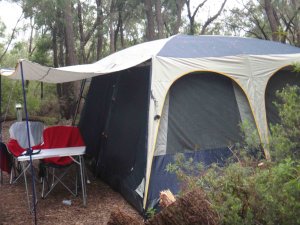 Tips For Camping With Kids
Plan in Advance
Camp sites can get busy, especially during school holidays or long weekends. It's a great idea to book well in advance so you are guaranteed a spot. There's nothing worse than tired, grumpy kids then finding you have nowhere to stay.
And it's a good idea to plan a few activities or things to do, or places you want to see. Just makes sure you have time to see and do everything you want to and not have to miss out on anything.
Pitch the tent in advance
If you are planning on camping in a tent, it's a great idea to pitch it before hand to make sure there are no holes, or nothing is broken. Discovering later on there is a hole in the tent, especially if it's raining does not make for a fun camping trip.
If kids have not been camping before, it's also a good idea to have them sleep in the tent in the backyard before you go to see if everyone is comfortable, if all the bedding is okay or if there are other things you might need.
Don't over pack
I'm usually guilty of this. I might need this or that would come in handy. I think once you've been camping a few times you get a better understanding of what you might need. A lot of it you probably won't even use.
Think about the things you are taking and try to make sure you really need it.
Pack wisely
You don't want to over pack, but you definitely want to make sure you have what you need, especially if you are camping away from any shops or are going out in the middle of nowhere. Weather can be a bit tricky when you are camping and it's harder to regulate temperature when you are in a tent, so you need to keep that in mind when you are packing.
Don't forget the First Aid Kit
A First Aid Kit is definitely an essential. You never know what might happen and it is always better to be prepared.
Take plenty food and water
It is a good idea to take enough food and water, unless you are camping near shops. Even if you are just going for a walk, take more water than you think you will need. You can never be too careful especially with little ones.
Bring fun things for the kids
Make sure you pack a few fun activities for the kids. Getting out and about and away from the screens for awhile is great. Balls, Frisbees, cricket sets or whatever sports equipment you have is great to make use of the outdoors. But if you have a long car trip or when the weather is not so great and you find yourself inside the tent with not much to do, kids might get bored. Pack an activity bag with books, pencils, colouring or activity books, travel board games, stickers or whatever you can think of that they might enjoy.
Always remember safety
You have to be cautious around camp sites or when camping, especially when young kids might be likely to wander off. Surroundings are often unfamiliar and some kids might be likely to see something and take off and it can be easy to not know where they are. There are often a lot of cars coming and going around campsites so if you have young ones, you really need to make sure you keep an eye on them.
It's good to know where there are any bodies of water around, just so you can be aware.
And if you are in the tent, it's a good idea to zip all the zips up the top so that the zipper is out of their reach so they can't sneak out.
Have enough lights
Make sure you take some torches or lanterns. It can get dark early and they will come in so handy for trips to the toilet or if you're out for a walk. And you will want light to see around the tent, you never know when you may need something.
Don't forget the camera
Not an essential, but great for capturing family holiday memories that you will want to remember. Also makes for some great stories for later on.
Camping is a great adventure that all kids should experience at some point. It's great for building self-esteem and getting out and about and back to nature should happen more often.
When going camping always remember to stay safe, have fun and make some great family memories.
What do you love about camping? Do you have any tips for camping with kids?