This post may contains affiliate links which means we may receive a commission on products or services that you purchase through clicking on links within this blog.
Our connection to our children is important. Building positive relationships with your child is important.
As our kids grow older, it's easy to become complacent. They don't need us for every little thing and we can focus more on other things.
Because they don't seem to need you as much anymore. They can occupy themselves more often.
But you can be creating distance between you and your child without even realising it.
Building a connection through love, care and guidance is what helps our children to be happy, and to grow and succeed in many areas of their lives.
Life with kids is busy. It can be hectic and it can be crazy. But it is also amazing and it's important not to forget the little things that keep your bond strong.
It's easy to be overwhelmed and weighed down by everyday life. It all takes up time and energy, work, housework, extra curricular activities and many other things.
And while we might be spending time with out kids, it isn't all quality time. You can spend all day together, but your attention is often on other things. They don't have your full attention, and sometimes they need it.
There are many benefits of spending time with your child.
Benefits of Spending Time With Your Child
Children who spend quality time with their parents have higher self esteem and feelings of self worth. When children feel more valued by their parents, they feel more positive about themselves and life.
Children need love and attention regularly to become emotionally strong individuals.
Children learn by example. By forming great emotional attachments to you through quality family time, they are more likely to keep similar positive behaviours with other relationships throughout their lives.
It encourages communication. When you spend time with your child, it helps open the lines of communication and they feel more comfortable opening up to you when things are bothering them. They are less likely to keep their fears and emotions bottled up.
Spending time together is important. Sometimes we don't have much time, that's why it's best to make sure that the time you do spend together is quality time. Focus on them. Give them your full attention. Kids can see when you're there, but they also know when your mind or attention is elsewhere.
So turn off the TV. Put your phone away. Give them your full attention, even if it's only for ten minutes.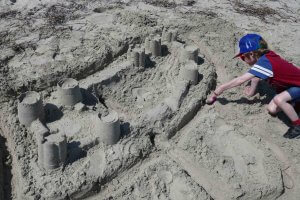 Activities to do with your kids
Play with them
All kids love to play. If there is something they like to play often, maybe you could see if you can join in with them. Or find something else you both enjoy that you can play together. Board games are a lot of fun, and is great for the whole family to enjoy together, or there's a lot of games that can be played with two people.
Find things they love to do and see if you can come up with something to do together.
Read
Reading together is a great experience to do together. There are so many great books out there that are great to share and enjoy. Even though my son can read by himself now, he still loves me to read a book to him every night. It's something we've been doing together since he was a baby.
Story time involves cuddling and sharing the emotions of the book so it's a great way to connect with each other.
Music
Putting on some music and dancing around is great. Get silly, have some giggles and burn off some steam at the same time.
Or if you aren't in an energetic mood, put on some music you can sing along to or just lie still and listen to some calming music together.
Sing together
Depending on the age of your child, sing together. Young children love nursery rhymes or Wiggles songs. Singing together can be heaps of fun, even if no one can sing very well.
Art and craft
Most kids love to do art and craft and it's a great way to spend quality time together. Try something different. Younger kids usually prefer smaller projects they can finish in one sitting. But some older kids might enjoy a bigger project that they can work on a bit at a time.
Take a walk
Breathe in some fresh air and get back to nature. Smell the flowers and take in your surroundings. Find things that make them smile. There are many things to find joy in.
Cooking or Baking
Find some simple recipes they can help with. Most kids like baking cupcakes or biscuits. Or you might like to try something different for lunches. If you have a fussy eater, you might find they are willing to try something new because they helped to make it.
Listen
Take the time to listen to them. If they've been at school, or with someone else, ask them how their day was. Ask other questions to get more than a "it was good" out of them. At first they may not want to say much, but if you ask on a regular basis, you might find they tell you a bit more.
Listening is important. Kids like to know they are being heard. And like everyone, they like to know that the things they have to say is important and that you care.
If you don't take the time to listen to the small things now, when they are older they won't want to tell you about the big things. 
Plenty of hugs
Nothing helps to form an unbreakable bond with your child like hugs do. It helps to increase the emotional bond and loving feelings.
But some kids aren't big huggers and just don't want them. Never force them to hug. My son never really liked hugs when he was younger but now he loves them.
How to Spend Quality Time With Your Child
Most of us have busy lives and it can seem impossible to find time in the day for anything extra. But it doesn't have to be that hard.
Add it to Your To Do List
Most people have some sort of to do list where everything important is added to it and it becomes a priority. Spending quality time with your child should be a priority. Add it to your to do list.
Get them to help you
If you have some housework or something else that needs doing, ask them to help you. If the reward is some extra time with mum and dad, they may be a little more likely to help. And you never know, they might enjoy it.
Wake up earlier or stay up later
If you can change your bed time a bit you might be able to have an extra 10 or 20 minutes to get something done that will give you a bit of extra time to spend with your child.
It doesn't have to be every day. A few times a week is good. Start off with whatever you can manage and see what works for you. Try and make it a regular thing.
Creating an amazing bond doesn't need a lot of time. Just make sure it is quality time. Undivided attention. Make them feel loved. Show them that they are important.
The more ways you find to connect with them, the stronger your bond will be. Especially if you do it on a regular basis.
What things do you like to do to build an unbreakable bond with your child?