This post may contains affiliate links which means we may receive a commission on products or services that you purchase through clicking on links within this blog.
I always loved Easter when growing up. Easter eggs tasted so good. I loved biting into the chocolate yumminess.
Everyone used to say to me, "but you can get chocolate all year round." Then they looked at me like I was crazy when I said, "It doesn't taste the same." And it didn't. Nothing could beat it.
But as I grew up, it lost some of it's appeal. And it wasn't because I grew up, or that I loved chocolate less. It was, because let's face it, chocolate isn't what it used to be.
My favourite Eater eggs were the Humpty Dumpty and the Cadbury and Red Tulip bunnies. But over the years, Humpty beanies were disgusting and the Red Tulip chocolate tasted absolutely revolting.
Heaps of complaints were made on Cadbury's Facebook page, and they swore they had not changed their recipe. They just made it less breakable.
So in other words, they had changed it.
They were so bad, I couldn't eat them and had to throw them away. How many chocoholics will throw chocolate away?
I will never buy Red Tulip again – unless they make it like it used to be. Somehow, I doubt it. Even the Cadbury bunnies aren't the same. They are okay, but I miss the Cadbury bunnies from my childhood.
It's so hard letting go.
I have bought so much Cadbury chocolate over the years, and I still do, but I feel like I'm becoming more and more disappointed. Not only with the taste, but blocks seem to be getting smaller and smaller.
And more expensive.
I will never buy their Roses chocolates either. They are a huge disappointment.
I used to love their strawberry creams. They were amazing, but now they are hard, don't taste the same, and the chocolate itself is overly sweet. Definitely not their 'glass and a half' milk chocolate they used to have. And I find the peppermint taste goes through the whole box.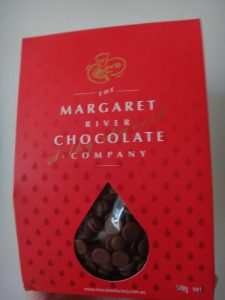 So, when the chocolate you love becomes disappointing, what do you do?
Find an alternative.
I love going to the Margaret River Chocolate Factory. It is the best chocolate ever! They have so many different chocolates. My favourite part about going there, is they have free chocolate tasting. It is so good. Better than Cadbury any day. If you have never tried it, you are definitely missing out.
I buy a bag of their milk chocolate pastelles, and it never lasts as long as I want it too. 
Especially now, when I have to share with my kids.
This is what chocolate should be. If we lived closer to one of their stores, I'd probably be there all the time, and I'd definitely buy it more often.
If you don't live near one of their stores, it might be a bit difficult to try it, because unfortunately, they don't deliver.
But I would definitely recommend popping in if you have the chance.
I'm not really a fan of Easter chocolate anymore, but this kind of chocolate is great all year around.
Plus they do Easter eggs too.
If you want to see more of their products you can check out their website here or check out their Facebook page for what's new.