This post may contains affiliate links which means we may receive a commission on products or services that you purchase through clicking on links within this blog.
I have to admit it makes me sad these days when I hear someone say they never get any photos printed. While there is nothing wrong with only having photos on your phone or computer, it's just not the same.
And why have photos that you rarely look at when you can turn them into a work of art that can be treasured forever.
I first learned how to scrapbook many, many years ago when a friend invited me to a scrapbooking party. I didn't know much about how to scrapbook, let alone scrapbooking in general. But it sounded interesting and I went along.
It wasn't long before I was hooked. And I loved that it combined two of my favourite things. Craft and photos.
After the party, I went out and bought some basic scrapbooking supplies and got started.
It wasn't hard to learn how to scrapbook and I loved that I could do it however I wanted.
Pages and albums quickly filled up, and I loved looking back through the pages and adding more to them.
It was a relaxing craft activity I could do when I felt like it and I loved having my photos and memories organised. It looked amazing.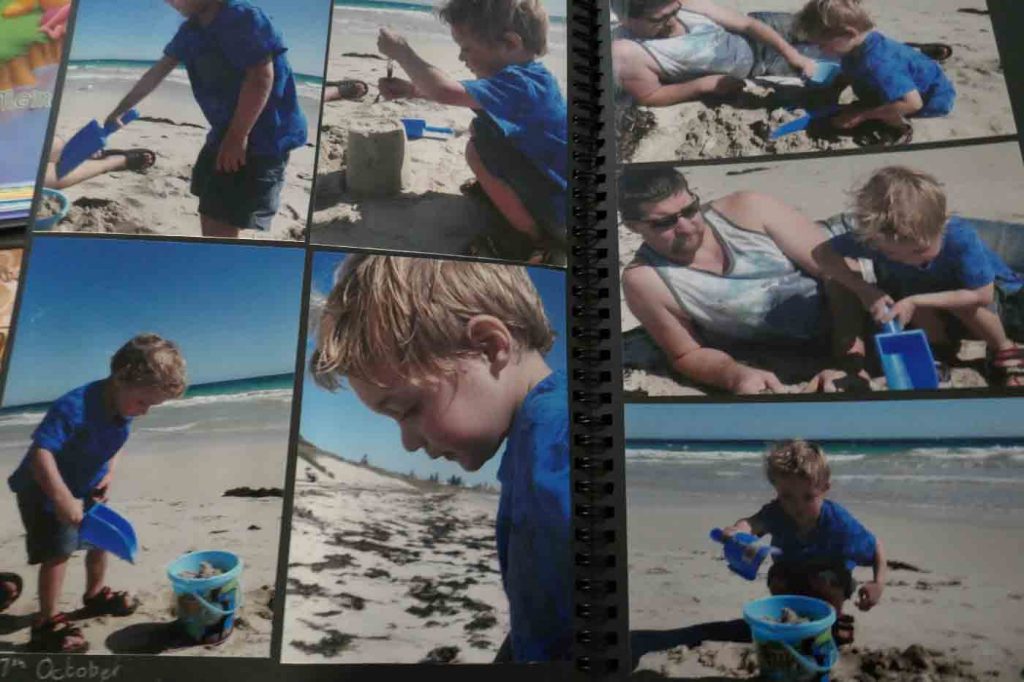 Why you should start scrapbooking
Before digital cameras, I used to store my photos in a box or in a photo album. The problem was they often got mixed up. I couldn't remember when they were taken, or little things that might have happened, so my memory of that time was vague at best and I felt distanced from it.
These days everyone has heaps of photos on their phone or digital cameras. Which is great that you can see when the photo was taken. But in years from now, are you going to remember where it was, how you felt, something special that happened or that cheeky thing your toddler did?
Probably not.
That's what I love about scrapbooking. You can add photos to pages and you can write about what happened that day, where it was or anything you want to remember.
When your kids are little, they grow up way too fast. So much happens that if you don't document some of it, it can get lost forever.

How to start scrapbooking
You don't need a lot and it can be as basic, or as elaborate as you want, depending on what you want to do. And the great thing is, it can be done fairly cheaply.
Photos 
You will need to get some printed if you haven't already.
A scrapbooking album or book like a visual diary
I used to do all my scrapbooking in albums and loose paper. After my son was born, I bought some visual diaries in black paper that worked really well and I didn't have to choose which paper suited the photos every single time. And black paper always looks great. Or you could use white paper visual diaries which are usually easier to find. Whatever you like. You probably want paper at least 120 gsm when gluing things on or the paper will bend and not hold up properly.
Scrapbooking paper if you are using an album
A nice selection of different patterned or plain paper is great for using in an album. Find ones that compliment your photos.
Acid-free glue stick or scrapbook squares
I used to use the scrapbook squares but found it easier, quicker and cheaper to use a glue stick. I used to use proper scrapbooking acid free glue sticks but when I found Bostik glue sticks are acid free too and cheaper I use them all the time now. They work great.
Embellishments
The really fun part. It's what makes your page go from good to great. You can get all sorts of things from stickers and cutouts, ribbons, stamps, other papers, pretty much anything you want.
Pens
You'll need something to write with unless you want to type it on a computer and print it out. A normal pen will work, or you can get all sorts of different ones for something different. I like gel pens, and I find metallic markers look really good against black paper.
Self-healing cutting mat and craft knife, or a guillotine – Optional
It can be great if you want to crop your photos to make them fit better or get rid of parts of the photo you don't want. I find it looks better and helps enhance the page but it isn't necessary.
So you don't need a lot to get started. Try it out and see how you like it. Then if you want you can get more elaborate. I love finding new embellishments, stickers, cut out punches, stamps and all sorts of things from different shops, markets, even online, like from ebay.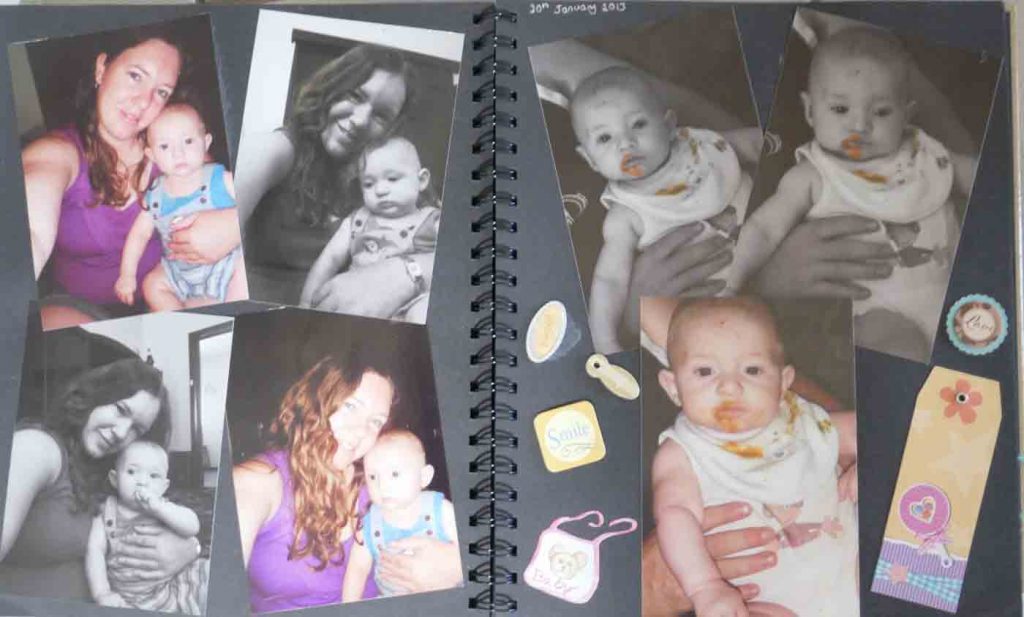 Learning how to scrapbook is easy. Try some different things and see what works for you. 
It's also a great excuse to get all those photos printed from your phone, reminisce, and get some of those memories down before they fade away. I'm sure in years to come, you'll be glad you did. My son loves looking at his baby pictures and the things I have written.
You might get addicted like me. But it's so worth it. Give it a go.
Have you already found the joy of scrapbooking?